We import and sell wood chips and wood pellets.
If you are a company or trading company considering purchasing or selling wood chips and pellets from Vietnam, please feel free to contact us.
Vietnamese wood chips and pellets import business to Japan
Vietnamese acacia wood pellets are ideal for Japanese biomass power plants.
Wood pellets are fuels that emit significantly less carbon dioxide, which causes global warming, than fossil fuels such as petroleum, and have been attracting attention in recent years as biomass with a low environmental load.
Wood pellets, like fossil fuels, emit carbon dioxide when burned, which is the same amount that the wood material absorbs during photosynthesis during the growth process, resulting in zero deduction, so-called "carbon neutral". Our method allows for permanent supply while maintaining carbon neutrality by planting trees at the same time as logging.
It is friendly to the global environment, helps the economies of developing countries while maintaining forests, and greatly contributes to Japan's stable power generation plans. In addition, it is possible to supply a large amount of wood chips for papermaking, which are 100% acacia and 100% eucalyptus, which are standard-compliant products for Japanese companies.
Multiple Japanese engineers are stationed locally to perform quality control, and at the same time carry out Toyota-style cost reduction activities to achieve high-quality, low-priced mass supply.
In addition to Vietnamese products, there are also pellets made from scraps and sawdust generated when Canadian pine is processed into furniture in Malaysia.Malaysian and Indonesian PKS (shells made from palm palm oil), which are currently the mainstream in Japan's biomass power plants, are also handled because they serve as a link to switch to wood pellets.
[Vietnamese Acacia woodpellets outline]
Bulk carrier:10,000MT(10,000t)~
20ft container:19~20MT
Production factory:Viet Nam FSC-Co CCertified factory
Resident 5 Japanese engineers: Quality/production control guidance
SGS Inspection results/ ISO/FSC certificate can be submitted
Factory direct supply certificate can be issued(15yrs~20yrs)
Factory equipment information can be submitted
Factory inspection possible
(Currently, I cannot travel due to COVID-19. Resumption is undecided.)
*Production capacity1,620,000MT/year(Total of 7 contract factories)
*Shipable quantity:80,000MT/month(Remaining capacity of 7 contract factories)
*We are actively developing local joint ventures and independent factory construction.
Sales performance
woodpellets:Korea・EU (Supplying for combustion test of power plants in various parts of Japan)
Other sales results
woodchips:Chinese paper manufacturer
PKS Made in Malaysia:50,000t/month Imported and sold in Japan
※In addition to the above NKY group companies, there are 6 partner factories.
One of these companies is delivering wood pellets for power plants and wood chips for paper companies via a major Japanese trading company.
Both our company and NKY have acquired FSC-Co certification for trading companies.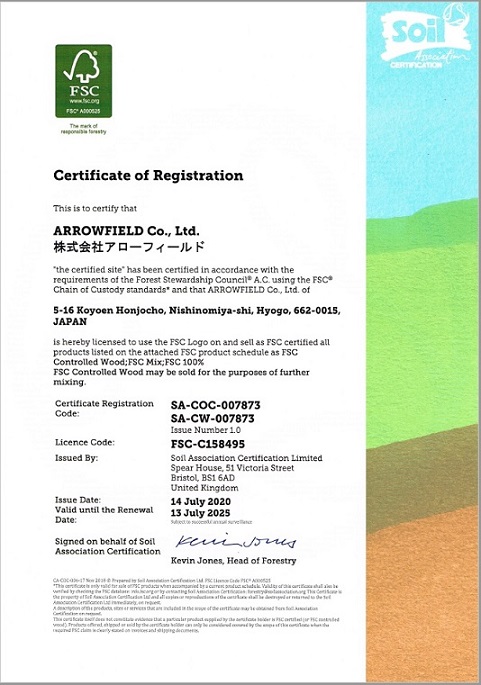 FSC Authentication details
Authentication registration No. :SA-COC-007873
CW No. :SA-CW-007873
license No.:FSC®C158495
In line with the application of RSB certification, which is scheduled to be introduced in April 2023, PKS is planned to be certified not only by the local factory but also by NKY Co., Ltd. and our company.
>>>For more information on our Vietnamese wood chips and pellets import business to Japan, click here

>>>For more information on our Indonesian PKS factory in Kalimantan, click here